How does it work?
We deliver super healthy natural dog food to your door, with a delivery plan made just for your furbaby.
Our flexible plans deliver the best dog food NZ has to offer, right when you need it.
Tell us about your Furbaby
Answer a few quick questions about your dog like age, weight, activity level.
Create a personalised meal plan
We'll let you know how many calories your dog needs and help you create their personalised feeding plan.
Free scheduled deliveries
Get the perfect amount of natural, NZ made dog food delivered to your door, when you need it.
Fabulous pet food your dog will thrive on, not just survive.
Real food, made fresh
Why buy imported pet food when you can can buy amazing NZ made dog food, with fabulous local ingredients? We make our super healthy dog food in NZ, using all natural ingredients and deliver it straight to you. Its fresher and better for your dog.
Nutrients your dog will thrive on.
We design food for your dog to thrive. Our grain free dog food exceeds all AAFCO (global standard) specifications. Most store bought foods simply 'meet' the standards for dogs to survive on... but your dog deserves the best dog food NZ has to offer!
A personalised feeding plan for your best friend.
If you're confused by vague feeding guides, you're not alone. Feed your dog the right amount everytime with their own personalised feeding plan.
Personalised feeding plan based on your dog's specific age, weight and activity level.
Know your dogs exact daily feeding needs and use the cool measuring scoop for perfect portions at meal time.
Super flexible subscription gives you total control to pause, change or cancel your deliveries any time you like.
One size doesn't fit all.
Your dog is unique, and deserves a feeding plan that considers their uniqueness.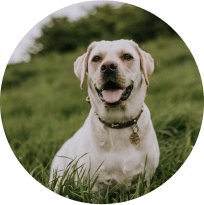 Tonka - 235g a day
A Typical 20kg Adult furbaby
794 Calories a day
2 x 5kg boxes every 11 days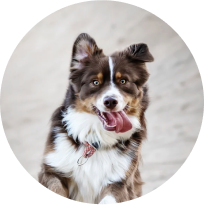 Patchy - 192g a day
An Active 15kg Senior furbaby
648 Calories a day
1 x 5kg box every 26 days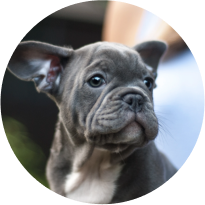 Mimi - 150g a day
A Typically 5kg Puppy furbaby
506 Calories a day
1 x 5kg box every 33 days
Tailored delivery schedules, right to your door.
We'll calculate your dog's perfect meal plan and deliver it to your door.
Your orders will arrive just before you run out, without having to think!
Save time, money and the hassle of running out of dog food.
Never miss treat time... or a poop at the park
Show a little extra love with treats, and be that pet parent who always has a bag to spare... with easy add-ons to your subscription
Add treats and/or poop bags to your regular food delivery and make changes in your dashboard any time you like.
100% natural NZ air dried beef liver treats
Home-compostable poop bags
Loved by Thousands of New Zealand
Dogs
Loved by Thousands of
New Zealand
Dogs
"Mr Delivery Man dropped off this kibble a couple weeks ago. All I can say is it gets a two paws up from me!"
"Grain free, high protein and eco friendly!! It doesn't get much better than that!"
"Not only does the food just smell amazing, it is made using a natural recipe with chicken."
Is your Furbaby ready to try a healthier alternative?
Get 30% off when you try your first box!
No commitments - change, pause or cancel anytime.